Rhythm and Blues Magazine, July 1957, A Charlton Publication
"She's Got Her Mo-Jo Working--ANN COLE"
Presenting Baton Records' New Sensation Belter Of The Blues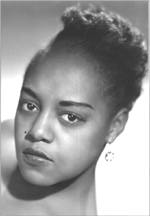 It seems that the fabulous young belter of the Blues, Miss Ann Cole, has finally dug into a good luck treasure chest and has come up with the winning sound that has her on the hit kick. Her newest Baton recording is called "I've Got My Mo-Jo Working" -- and if "Mo-Jo" means the power of producing hit records, then it sure is working for lovely little Ann. Now, for those of you who aren't too hip to the know 'bout this chick who's puttin' down the most in Rhythm and Blues sounds, we'll ink out the fine facts for you to dig into so that you can hip yourself to the happenings.
Ann Cole began her professional career with her entire family, a spiritual group called "The Colemanaires". The group traveled throughout the United States for over two years and made appearances in a number of major cities, with Ann doing most of the group's lead singing -- in addition to solo work. "The Colemanaires" popularity grew to the extent that Ann's uncle formed the Coleman Recording Company, for which Ann made several recordings.
The family group eventually drifted apart, but Ann continued singing whenever and wherever she could. At one time, she recorded several tunes for Timely Records, which, for lack of distribution, never became popular. One person, however, did hear the records and realized that there was a girl with great potentiality. Lou Sprung and Sol Rabinowitz, prexy of Baton Records, searched for two years attempting to reach the obscure singer. Finally, one member of a vocal group the company was recording knew Ann and thought he could get in touch with her. After a week of phone calls and message leaving, the evasive Miss Cole visited the Baton offices. This all-important interview was on Friday. By the following Monday, a long-term contract was signed, and the master on her first release, "Are You Satisfied" was cut.
Now that you've picked up on the facts in ink, we think you should go out and pick up wax facts, meaning the platters that are spinning 'round and 'round with that most fabulous Ann Cole sound.
Later, for all you hippies -- we hope you'll follow our advice 'cause Ann Cole is really nice. Dig?